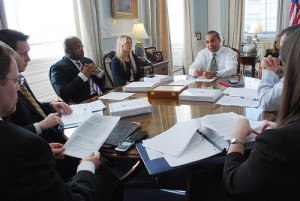 On Monday September 29th, the 2014 Massachusetts Clean Energy Industry Report was released. This report highlights the state's clean energy industry growth of 47% since 2010 with an emphasis on the double-digit growth for the third consecutive year.[[1]] Today, the Commonwealth ranks #1 per capita in early-stage and growth equity clean energy investment. It is also America's most energy efficient state ranked by the American Council for an Energy-Efficiency Economy (ACEEE) and number 1 in the nation for clean energy policy and clean energy investments per capita by Clean Edge.[[2]] "We have long believed that a strong commitment to investing in clean energy would not only provide significant environmental benefits, but would also serve as an economic catalyst in the Commonwealth," said Governor Patrick in his press release yesterday.[[3]] What factors have led to Governor Patrick administration success to create a 10 billion dollar industry [[4]]?
According to the New England Clean Energy Council's President Peter Rothstein, it takes a combination of forward-thinking clean energy policies and a strong innovation economy allows growth in green industry. About seven years ago, Governor Patrick developed a clean energy plan for Massachusetts that was supported by the Legislature and later on passed as three clean energy laws: the Global Warming Solutions Act, the Green Job Acts and the Green Communities Act.[[5]] Many cities around the world focus on setting goals to reduce greenhouse gas emissions, but what was different about the policies set forth by Governor Deval Patrick was that he envisioned change not only through committing to the normal goals but pushing for a transformation in the energy marketplace, a transformation that has created clean energy business opportunities and more than 28,000 jobs in four years. The result was an energy sector that contributed to 2.5% of Massachusetts's Gross State Product and reached international markets. Some of these initiatives include businesses collaborations such as the work between French corporation Saint-Gobain and cleantech startup-Greentown Labs in Somerville, as well as joint ventures between EnerNOC, Inc. and Japan's Marubeni Corporation.[[6]] Governor Patrick strategy to success was his focus on understanding the need of strong, smart and ambitious local policies to support a dynamic clean tech industry's growth. What is next for Massachusetts? As of today, there are 88,372 workers and 5,985 firms that are part of this booming industry.[[7]] The renewable energy employment accounts for about 21,000 jobs with more than half of those jobs related to the solar industry. The solar industry is still the leading renewable in the Commonwealth with 642 megawatts (MW) installed, a radical difference to the 3MW installed back in 2007.[[8]] This large increase demonstrates that the Commonwealth is capable of reaching the goal of 1,600 MW by 2020.[[9]]
The Massachusetts Clean Energy Center (MASSCEC) is predicting to exceed 6,000 more employers and 100,000 workers for the state's clean energy industry by 2015.[[10]] The Massachusetts Clean Energy Industry Report also drew an interesting point about trends in this particular industry. While the jobs in this industry were focused on research and development, deployment workforce in energy efficiency work switched that around. The report claims that sales and distribution firms employ the most clean energy workers (26.6%) and installation and maintenance (24.3%).[[11]] On that note, the report also acknowledged that while most clean energy workforce are located in Eastern Massachusetts, the western part has been the one experiencing a consistent growth since 2010. Moreover, this year the Southerneastern part of the state experienced the fastest growth in the industry with 22%. The success that Massachusetts has experienced was guaranteed by the policies made by the regional and local government. The transition of becoming more sustainable is no longer an option but a requirement in the Commonwealth. The results clearly show that it is beneficial not only to our environment but can push the economy forward. The 2014 Massachusetts Clean Energy Report has proved that the Commonwealth's investment in the clean energy sector has paid off, in more ways than just jobs, but as a measure to provide space for innovation and international investment.
[1] http://images.masscec.com/reports/masscec_2014_executive_summary_final.pdf
[2] http://images.masscec.com/reports/masscec_2014_executive_summary_final.pdf
[3] http://www.mass.gov/governor/pressoffice/pressreleases/2014/0929-third-straight-year-double-digit-clean-energy-job-growth.html
[4] http://www.mass.gov/governor/pressoffice/pressreleases/2014/0929-third-straight-year-double-digit-clean-energy-job-growth.html
[5] http://www.mass.gov/governor/pressoffice/pressreleases/2014/0929-third-straight-year-double-digit-clean-energy-job-growth.html
[6] http://www.mass.gov/governor/pressoffice/pressreleases/2014/0929-third-straight-year-double-digit-clean-energy-job-growth.html
[7] http://images.masscec.com/reports/masscec_2014_executive_summary_final.pdf
[8] http://www.mass.gov/governor/pressoffice/pressreleases/2014/0929-third-straight-year-double-digit-clean-energy-job-growth.html
[9] http://www.mass.gov/eea/energy-utilities-clean-tech/renewable-energy/
[10] http://www.masscec.com/content/2014-clean-energy-industry-report
[11] http://images.masscec.com/reports/masscec_2014_executive_summary_final.pdf