Michael Leyba and Laura Mueller-Soppart
October 13, 2012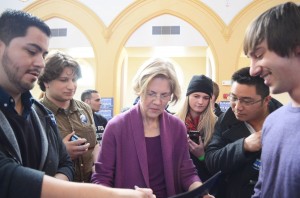 US Senate Candidate Elizabeth Warren, 'Scrubs' star Zach Braff, Boston City Councilor-At-Large Ayanna Pressley, and the NEU College Democrats hosted a rally at Northeastern's Fenway Center. The importance of the Massachusetts race was palpable from the sheer diversity of the crowd to the speaks on stage. And although there were only a few Scott Brown supporters outside the event, a bipartisan message rang true throughout the event: Every student must vote; every student has a stake.
"Make no mistake– Massachusetts is a swing state," declared Braff. "The entire country is watching this debate. We are at a fork in the road… which way do we go? This election is HUGE."
In many ways, Zach is right; the upcoming election in Massachusetts could determine the party majority in the US Senate, at a time when many of the issues that specifically affect our generation are being decided. Policy decisions made this upcoming congressional term will affect everything from the interest rate you'll pay on your student loans, the job market prospects you'll have at graduation, the direction of social issues that you're passionate about, and one (or possibly two) Supreme Court Justices getting nominated for life. Zach finished, "College kids, this is too important to ignore. This is too important to not register by Wednesday. And too important to not show up on November 6. Because it is really going to truly affect your life."
But beyond the political party and beyond the debates, it is beyond time for our generation to step up and take ownership of our democracy. Your vote counts, whomever you cast it for, and the people that you elect make decisions that affect your day-to-day life. Today, the most important thing to do is to register to vote at your current address. The voter registration deadline is this Wednesday, October 17th. You can register on campus at any cultural center (Asian-American Center, Latino/a Student Cultural Center, John O'Bryant African-American Institute, Social Justice Resource Center, or the Center for Spirituality, Dialogue, and Service), at Curry Student Center during tabling hours, at any US Post Office, or via an online form available at www.sec.state.ma.us. Tomorrow and the upcoming weeks, please keep an open mind and listen to what each of the candidates has to say, and most importantly, on November 6th, VOTE.
If you are an out of state voter, find your state's early voting and absentee voting rules: http://www.ncsl.org/legislatures-elections/elections/absentee-and-early-voting.aspx